Final Local Content Report submitted to Natural Resources Minister
Final Local Content Report submitted to Natural Resources Minister
Published: November 25, 2020
Final Local Content Report submitted to Natural Resources Minister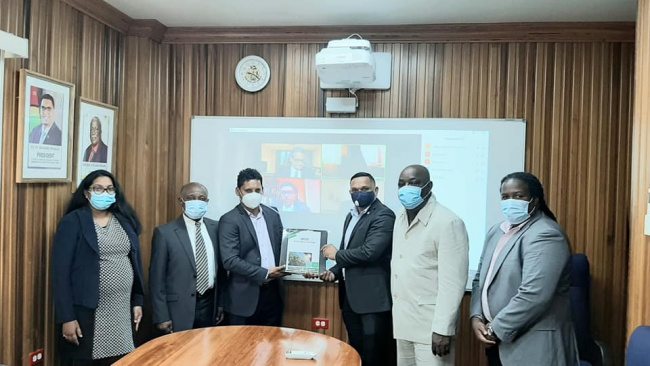 From Left: Ms. Sasha Rajkumar-Budhan, Mr. Carl Greenidge, Mr. Shyam Nokta, Hon. Vickram Bharrat, Mr. Carville Duncan, Mr. Joslyn McKenzie
Understanding the critical nature of the review of policy initiatives on local content in the petroleum sector, the Local Content Panel has submitted the final report for the development of Guyana's Local Content Policy and Legislation.
The report was presented to the Minister of Natural Resources Hon. Vickram Bharrat today by Chair of the Local Content Panel Mr. Shyam Nokta at the Ministry's Duke Street office. It will then be handed over to His Excellency President Dr. Irfaan Ali for guidance on the way forward.
The report outlines several recommendations towards the improvement of the country's policies and legislation.
The presentation was witnessed by Permanent Secretary of the Ministry of Natural Resources, Mr. Joslyn McKenzie, Members of the Local Content Panel – Mr. Carl Greenidge, Mr. Carville Duncan, Mr. Anthony Paul (virtually, Mr. Kevin Ramnarine (virtually), Mr. Floyd Haynes (virtually) and the Ministry's Legal Officer Ms. Sasha Rajkumar-Budhan.
In the past 3 months, the Local Content Panel has been able to engage with approximately 140 key stakeholders. Minister Bharrat commends the team for their diligent efforts and expressed appreciation for the timely completion of the report which will allow for decisive actions regarding the industry.
---
Related Document(s):