Guyana National Bureau of Standards - Adoption of Standards
Guyana National Bureau of Standards - Adoption of Standards
Published: July 25, 2022
Guyana National Bureau of Standards - Adoption of Standards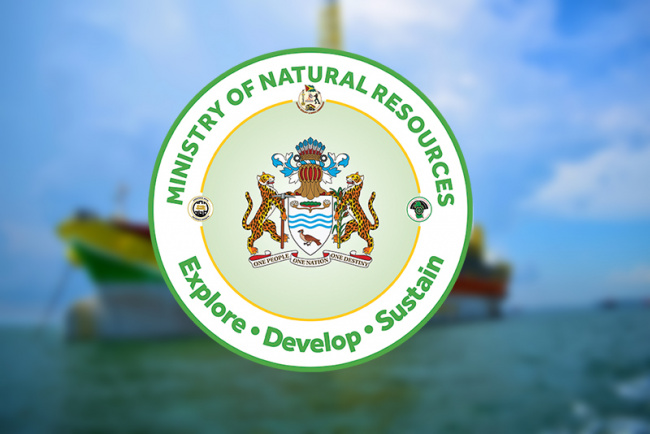 Guyana National Bureau of Standards - Adoption of Standards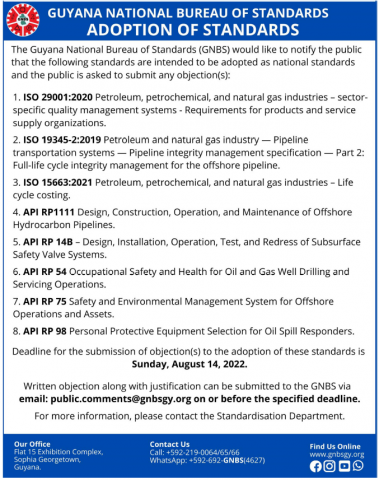 The Guyana National Bureau of Standards (GNBS) would like to notify the public that the following standards are intended to be adopted as national standards and the public is asked to submit any objection(s):
ISO 29001:2020 Petroleum, petrochemical and natural gas industries – sector-specific quality management systems - Requirements for products and service supply organisations.
ISO 19345-2:2019 Petroleum and natural gas industry — Pipeline transportation systems — Pipeline integrity management specification — Part 2: Full-life cycle integrity management for the offshore pipeline.
ISO 15663:2021 Petroleum, petrochemical and natural gas industries – Life cycle costing.
API RP1111 Design, Construction, Operation and Maintenance of Offshore Hydrocarbon Pipelines.
API RP 14B – Design, Installation, Operation, Test, and Redress of Subsurface Safety Valve Systems.
API RP 54 Occupational Safety and Health for Oil and Gas Well Drilling and Servicing Operations.
API RP 75 Safety and Environmental Management System for Offshore Operations and Assets.
API RP 98 Personal Protective Equipment Selection for Oil Spill Responders.
Deadline for the submission of objection(s) to the adoption of these standards is Sunday, August 14, 2022.
Written objective along with justification can be submitted to the GNBS via email: public.comments@gnbs.org on or before the specified deadline.
For more information, please contact the Standardization Department.