Inaugural Guyana Energy Conference set for Monday launch
Inaugural Guyana Energy Conference set for Monday launch
Published: February 21, 2021
Inaugural Guyana Energy Conference set for Monday launch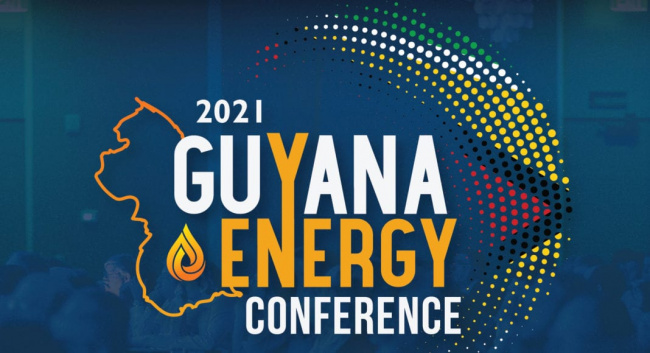 Guyana Energy Conference
(OilNow) The inaugural Guyana Energy Conference and Exhibition (GEC-X '21) will be officially launched on Monday, February 22, at the Pegasus Hotel in the country's capital, Georgetown. The conference is being organized by the Georgetown Chamber of Commerce and Industry (GCCI) with full support from the Guyana government and ExxonMobil.
"We're looking forward to this conference because we want this conference to address issues in the nascent energy sector of Guyana," President of GCCI, Nicholas Deygoo-Boyer told OilNOW.
Deygoo-Boyer, who is also the Chairman of the Private Sector Commission, said the energy sector in Guyana, pre-oil and gas, was limited to the importation of downstream products and the importation of heavy fuel oils to produce electricity. "For the future, the conversation starts with the traditional fossil fuels plus our oil production but should also include renewables as Guyana looks towards a carbon-neutral future where we hope that energy production can have a smaller carbon footprint than it does today."
Already, plans are underway by the government to pipe natural gas to shore as a cleaner and cheaper alternative to the heavy oil currently being used to produce power. This forms part of the country's journey towards cleaner, and ultimately renewable forms of energy production.
"Initiatives like GCCI's Guyana Energy Conference really go a long way toward making introductions, opening up discussions and exploring possibilities," President of ExxonMobil Guyana, Alistair Routledge said in a comment to OilNOW. "As the industry emerges here, it is essential that Guyanese as stakeholders learn and understand more about the ongoing operations in Guyana and what opportunities they bring. And it is important for industry to play a role in education, explanation and providing answers to the questions our stakeholders have."
Minister of Natural Resources, Vickram Bharrat will deliver the feature address at Monday's launch, with remarks from Deygoo-Boyer, Routledge and Chief Executive Officer of the Guyana Office for Investment, Dr. Peter Ramsaroop.
Organisers of the conference and exhibition said strong focus will be placed on local participation in the oil and gas industry and how forging partnerships with other stakeholders is helping Guyana build capacity.
"We're excited to have all the various players in industry from those who are looking to service upstream oil and gas to those who are looking to play a role in alternative energy in Guyana, at this conference," Deygoo-Boyer said.
GCCI is being supported by several Guyanese companies for the staging of GEC-X '21, which is slated for September 28-29.